[ad_1]

Roger Federer ended his career 6-4, 6-7, 9-11 playing doubles at the Laver Cup   
On Friday evening at the O2 arena in London, it was the best of times, and the worst of times. Roger Federer, the legendary Swiss tennis player, took to the court for the last time having recently announced his retirement following a storied career spanning twenty-four years. Acknowledging he was unable to compete at an elite level following multiple knee surgeries, he decided to play his final match at the Laver Cup.
The former world #1 and 20-time grand slam champion along with his longtime rival and friend Rafa Nadal, held a match point on Day 1 of the Laver Cup. When Jack Sock and Francis Tiafoe clinched the final point of the match tiebreak 11-9 for Team World, the crowd erupted in applause and tears.
In 2017, Federer alongside his longtime agent Tony Godsick, created the Laver Cup – a team competition modeled after golf's Ryder Cup – and named for the two-time Grand Slam champion, Rod Laver.
Federer and Nadal teamed up in Prague for the inaugural event defeating the all-American team of Sam Querrey and Jack Sock 10-5 in the match tiebreak. Federer representing Team Europe for the fifth consecutive year, has joined Nadal, Novak Djokovic, Andy Murray, Casper Ruud and Stefanos Tsitsipas on a mission to retain the Cup having won the last four years.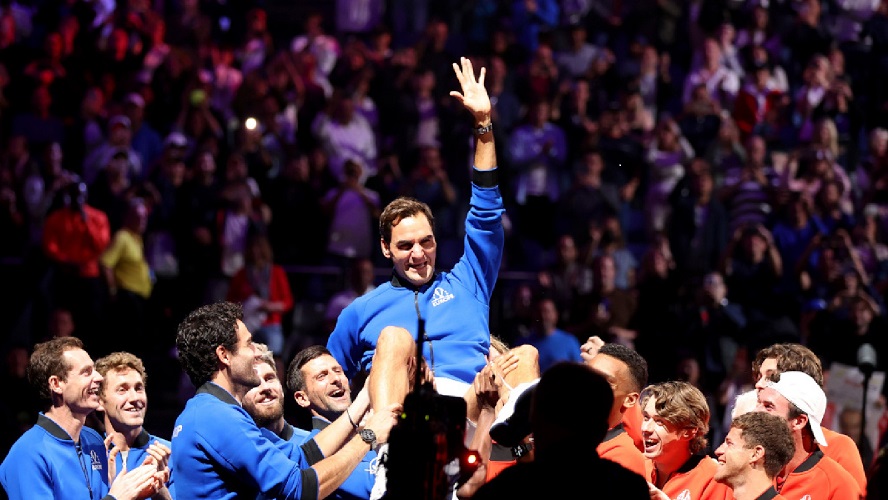 Team Europe won the toss and elected to serve. Nadal clearly burdened by the weight of expectation, opened with a double fault but held to 15 for 1-0. Tiafoe a semifinalist at the US Open and world #19, served well ,holding to 15 for 1-1 with an ace out wide on game point.
Federer stepped to the line to serve for the first time since his 2021 Wimbledon quarterfinal loss to Hubert Hurkacz. The 103-time titlist made 5/6 first serves and held comfortably for 2-1 with a monster serve out wide. Sock a former top-ten player and multiple grand slam doubles champion, missed 4/5 first serves yet held to 15 to level at 2-2.
Nadal the reigning Australian and French Open champion, held easily to 15 for 3-2 with a crisp backhand volley winner from Federer while Tiafoe maintained his groove on serve making 4/5 first serves to level at 3-3.
The enthusiastic crowd grew even louder after Federer struck an exquisite serve and overhead smash and Nadal a backhand volley winner to secure the lead 4-3. Sock held comfortably to 15 for 4-4 while Nadal struggled facing break point. Federer, however, was clutch hitting an overhead smash to save it and with another well-struck volley, secured the game.
Team World serving to stay in the set, dropped the first point following a fantastic forehand poach from Federer. Team Europe earned set point with another volley winner and converted when Team World netted a volley.
Federer served first in the second and held to 15 for 1-0 while Tiafoe upped the ante, hitting two consecutive aces to level at 1-1. Nadal faced triple break point and though he saved one with an ace up the tee, dumped serve when Federer overcooked a backhand volley.
Team World emboldened by their fruitful start, came close to relinquishing the lead as they battled to save three break points and consolidate for 3-1. Federer made 4/6 first serves and held to 30 for 2-3 riding the wave of Nadal's first-rate stab volleys.
Tiafoe faced double break point following a double fault and dropped serve when he inadvertently hit the ball twice. Nadal embracing the moment and adoration of the partisan crowd, made 4/6 first serves and consolidated the break for 4-3. The crowd eager to believe that Federer's final match would end in victory, soon realized Team World would not be denied.
Sock despite donating a double fault, held to 15 for 4-4 while Federer faced a deuce point before holding for the lead. Tiafoe serving to stay in the match, refused to drop serve as he did in the opening set. Although he missed 4/6 first serves, he battled to hold for 5-5.
Nadal always a fierce competitor, wanted his friend to win his final career match. The pressure would continue to mount as the Spaniard faced five deuce and six break points yet managed to hold!
For Team World it was hold or hit the locker room. Sock renowned for his formidable forehand, battled one of the best as Federer uncorked three down the line to get within two points of victory but with a net cord drop volley winner and a netted backhand, Team World leveled to force the tiebreak.
Team Europe just seven points from victory won only two as Team World dominated the breaker to force a deciding ten-point match tiebreak. While Nadal succumbed to nerves in the previous breaker, he opened the decider with two consecutive winners.
It was an extremely exciting, tension-filled tiebreak that enthralled the arena. Team Europe reached match point at 9-8 but with two forehand errors, Team World earned match point and converted when Sock ripped a forehand down the line.
There was an extended standing ovation, tons of tears, a video montage and so much to celebrate. Roger Federer did not look like an athlete that had not competed in fourteenth months. The tennis gods created a once in a lifetime player who gave his devoted fans – those in attendance and watching from afar – one last chance to revel in his brilliance.


[ad_2]

Source link