#NextGenATP youngster Timofey Skatov made his ATP Challenger Tour breakthrough this past week, when he lifted his maiden Challenger trophy in Parma, Italy.
The 21-year-old defeated Slovakian Jozek Kovalik 7-5, 6-7(2), 6-4 in the Parma Challenger final to become the first Kazakh Challenger champion this season. Skatov has reached at least the semi-finals in four of his past five Challenger tournaments and the title in Italy launched him to a career-high No. 152 in the Pepperstone ATP Rankings.
ATPTour.com spoke to Skatov following his title to learn more about the rising star.

Timofey, congratulations on winning your first Challenger title. Can you describe your emotions?
I was really happy when I won the tournament, I didn't even expect to win it. I played just one Challenger final before and I lost it. This one was a bit surprising for me. Maybe because of that, I was more happy because when you are having tough times and then finally you win a Challenger, it feels good.
The final was just over three hours long, were you nervous?
I was more or less okay, I was feeling nervous but I was also feeling confident because the past few matches I was playing well. I was comfortable on court. There were some tough moments, especially in the first set, I was 5-0 up and then suddenly it was 5-4. For sure I was nervous though, in a three-hour match, you get tense.
What is the biggest thing you've learned stepping up to the Challenger level?
Hard work always pays off. Especially this summer, it was tough for me, I was losing many first rounds. But I was always believing in myself. But then I got some wins which gave me some confidence and I just know you have to work, whatever it takes, doesn't matter if you're winning or losing, you have to always keep the same attitude.
Has your success come as a surprise to you at all?
I was feeling that I was playing well and I was getting close to a final. A few times in the semi-finals, I was like, 'Okay, this is really good'. But in my last semi-final, I said, 'Now, the semi-final is not enough! The goal is to go full!' In the end, I was playing really well for a month and at the end of those few tournaments, I got the win.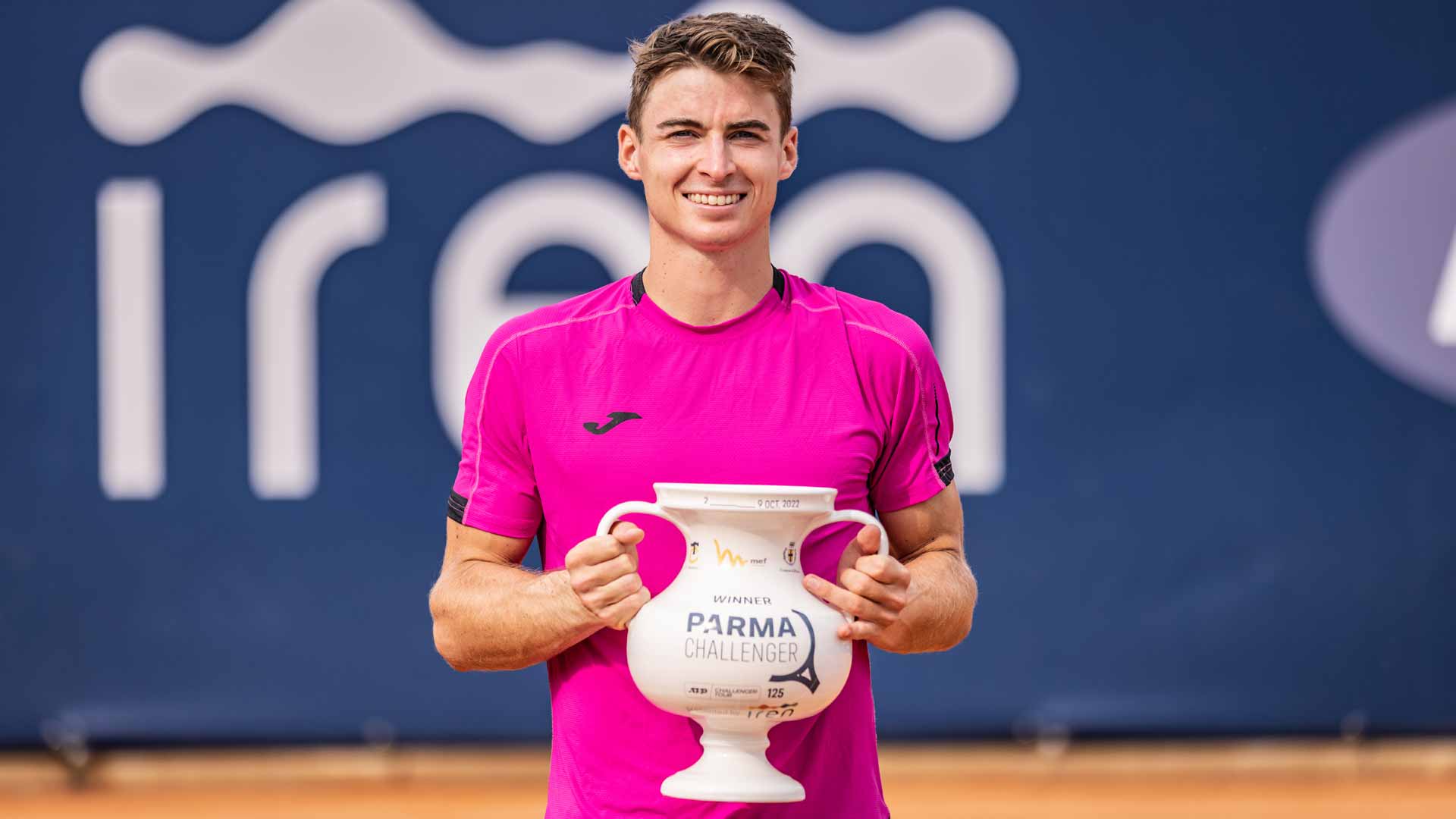 Kazakhstan's Timofey Skatov is crowned champion at the Parma Challenger. Credit: Daniele Combi
You're approaching the Top 150, was that a goal at the start of the year?
When I started the season, I didn't think anything about that. Suddenly, two months ago, I said to myself, 'It would be nice to finish the season in the Top 150!' I was kind of thinking about it and I think it also helps me realise what I have to do to get to this point. It's kind of funny that I'm at 152, the jump is near and I have many more tournaments to work.
How would you describe your game?
Before I started to practice at the Lozano-Altur Tennis Academy in Valencia, Spain, I was practising in Russia, playing with Russian players and we were playing crazy, where you do whatever you have in mind. Then I moved to Spain, where I started working with my coach, Jose Altur. He gave me some rules, like basics that I have to use, and the past three years I've really been learning about them.
Now, I'm trying to mix what I had from my youth and what I've learned in Spain, with a bit more control. Many times I play kind of different, I run a lot, I like it, sometimes it's funny. It's a mix of everything but for sure I'm not a big server.
In your opinion, what's the importance of the ATP Challenger Tour?
It's kind of a transition tour, from ITF to ATP. First, you get the experience, and then also you see how strong you are. The Challenger Tour is kind of like university, if you pass it, then you go to 'real life'.
What is your biggest passion outside of tennis?
Before I would say football but now I don't have much time, it's really tough to say. I like fashion things, like clothes and shoes. If I have the opportunity in big cities, I like to go shopping.
Is there a moment you look back on where you realised you wanted to be a professional tennis player?
First, when I was like 12 years old, it was time to choose between more school and tennis. And then my first time I went to the USA to play the Orange Bowl junior tournament, I was really surprised to see many players playing much better than me. After that, I sat with my parents and my coach and I said, 'Okay, I like tennis and I don't like school!'
When I moved to Spain at 17, this was the point where I had to go away from home and become more like a man, and take more responsibility myself, like start practising and working harder than I was.
You've said that Roger Federer is your idol. What was your reaction to his retirement and did you watch his last match at the Laver Cup?
I didn't see the match but I think everyone was expecting it when he didn't play for more than one year. I was on Instagram and I suddenly saw a post from Roger and I saw, 'To my tennis family…' I was like, 'Okay, he is saying bye-bye.' It's kind of sad but he played as long as possible.
When you're at Challenger tournaments, do you get much time to sightsee? And if so, what's a memorable spot you've been to while on the road?
When I played at the Seville Challenger, Sevilla FC was playing Barcelona and we went to see the match. Then a couple days later, on Tuesday, they were playing a Champions League game against Manchester City. So, I watched more football in two days than I have in the past three years.